We was of course awake at silly o'clock I think it was about 3:30 we finally gave in and started to get up.
This wasn't a bad thing, as it allowed us to get all our vlog / blog edits done before going to the food court for breakfast.
The kids were in hyper moods jumping around like tigger and nearly knocking everyones trays out their hands.
As you can imagine on little sleep we the parents were smiling through gritted teeth.
Breakfast here was amazing loads of choice once you had looked around. We are on the dinning plan so wanted to use credits. However our dinning plan was linked to our next hotel, and even though reception had assured us everything was all linked together it didn't work and the cost got added to our room.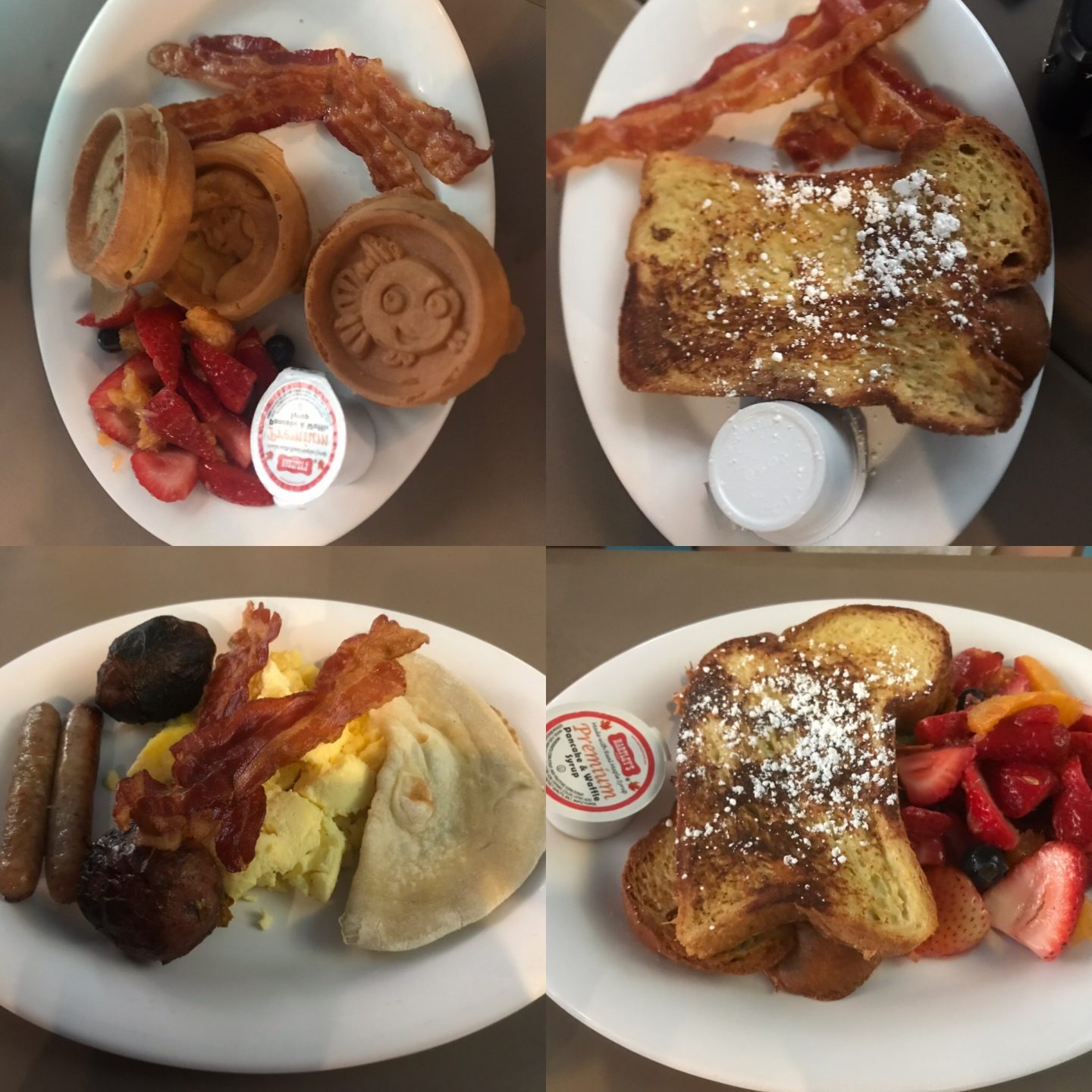 After breakfast we had a lovely walk around the resort and it is beautiful resort. The kids loved it and requested a photo infront of every single character.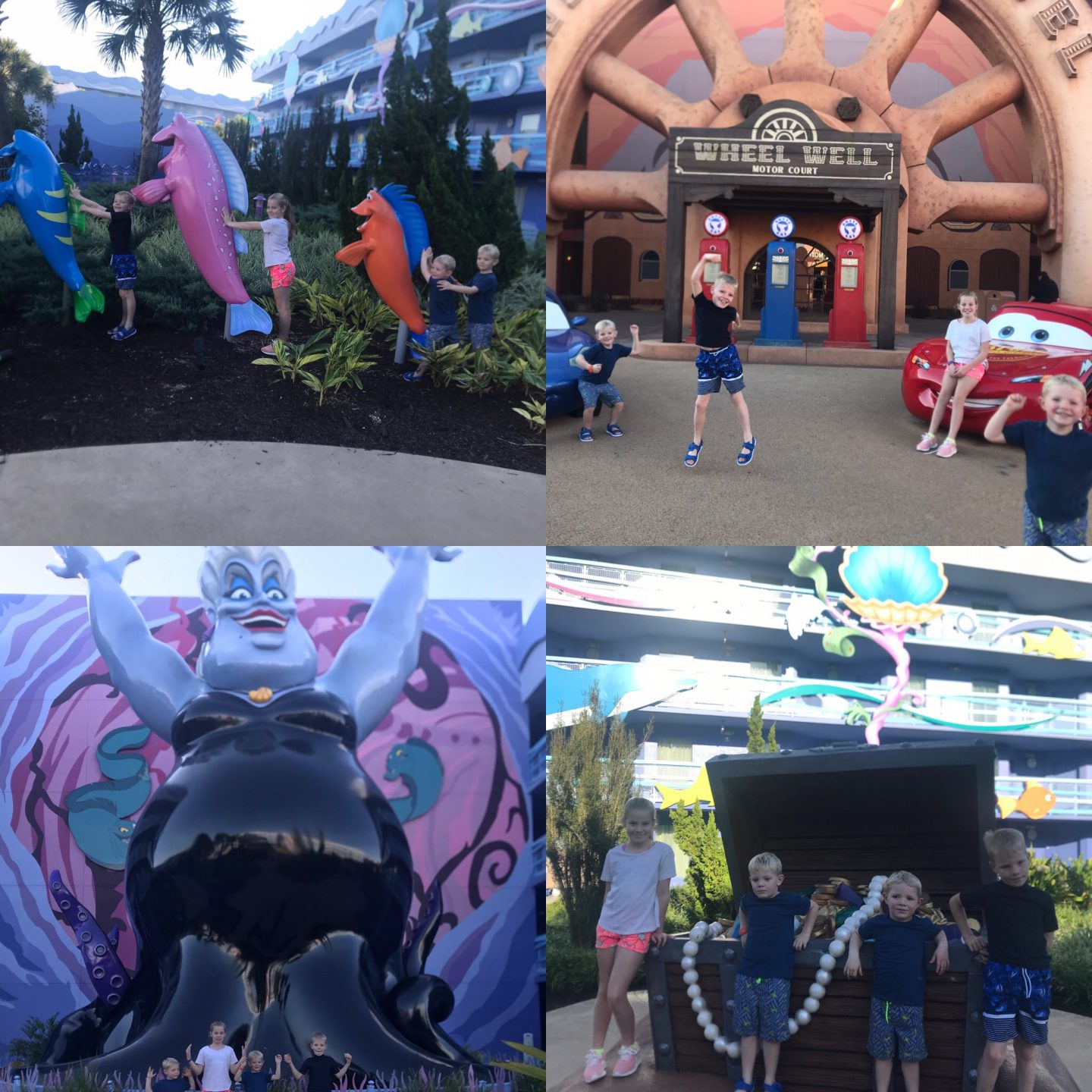 We had express check out so we didn't need to go to reception just leave (this feels weird to me) so walking down to the car I look at Reuben and notice he hasn't got his magic band on. Back to the room I go and it was right under the bed.
Blizzard beach had been booked in for this day for a very long time. Today was its last day before closing for winter. We thought it was going to be really busy.
We seemed to have lost our sun tan lotion. I have no idea how or where but I'm 98% positive I packed it. $14 later and we had a new shinny bottle that Adam resented.
Well it wasn't busy at all infact it was lovely the lazy river was fab and the kids just loved the wave pool. We did tykes peak with the little ones and then on to the obstacle course.
Seth (the littlest) didn't really understand the fact that you had to hold the rope and walk on the ice instead he just jumped and gobbed it big style que mommy having to literally jump in.
Adam was super brave and did summit plummet Grace was a little sad as she really wanted to but was scared, we told her not to bother at age 9.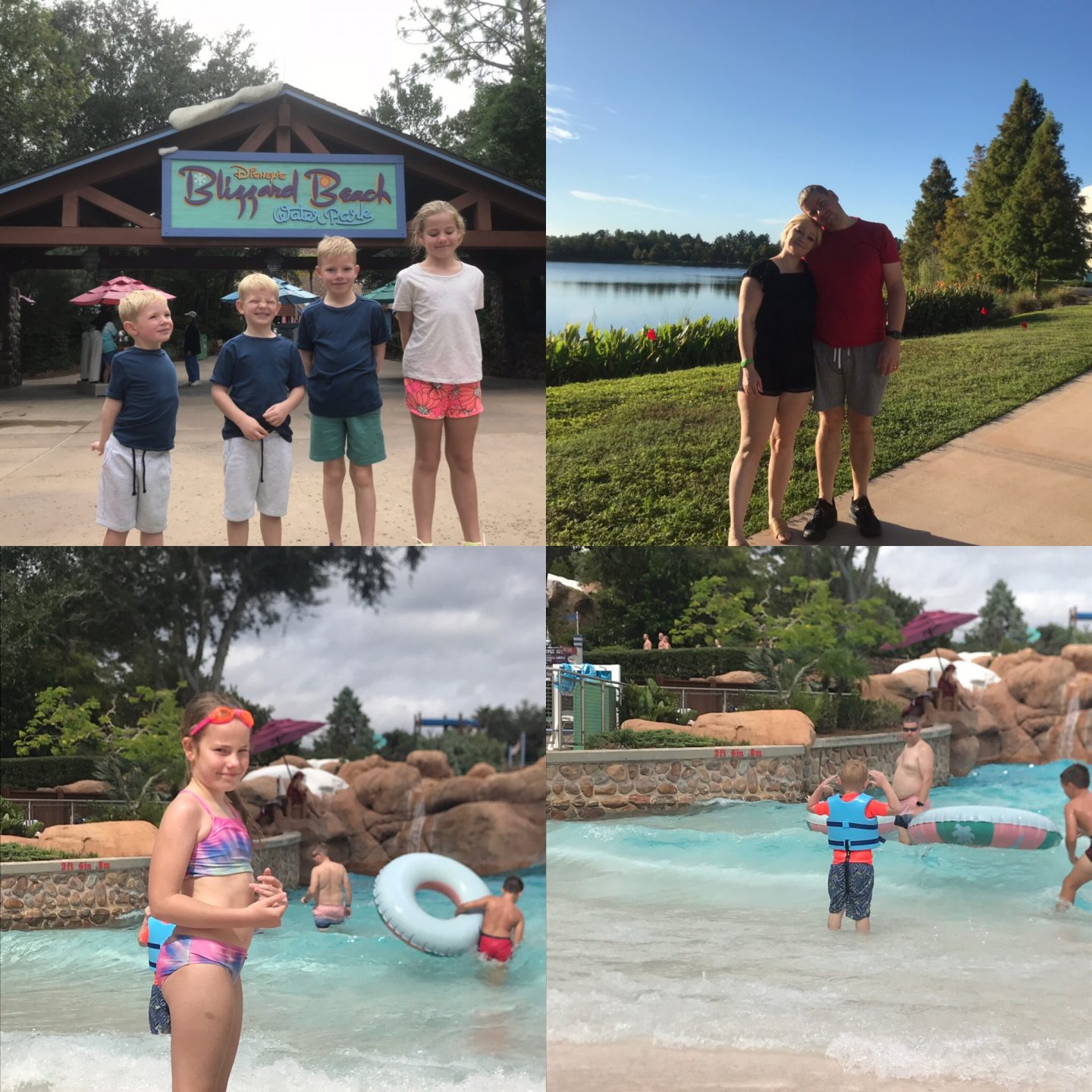 We got dry and had lunch at Lowatta lodge again tried to use dinning plan but no good so another charge to the room.
After Blizzard we needed to stock up on supplies so Walmart it was, I love this shop so much and the kids do. $100 later on water and food that's not really food we were on our way to Wilderness Lodge.
SAT nav in the car had been brilliant up until now. We drove round in circles three times, no idea how we got so lost but finally pulled in at 4:30 30 mins later than planned lol
Wilderness lodge soon erased that stress, it is one of the most beautiful resorts I have ever seen. The reception is out of this world. The kids settled down in rocking chairs watching Disney channel while we checked in. The staff were amazing and made sure the kids got stickers and had a good little chat with them.
The wonderful lady at the desk sorted all our dinning problems out and wiped our account of any charges, this also included the suntan lotion and a bag I had bought for $30 dollars Disney magic right there for you.
Our two bedroom boulder ridge Villa was out of this world amazing. The decor is stunning and the size is huge. We have so much space its just perfect for the two weeks.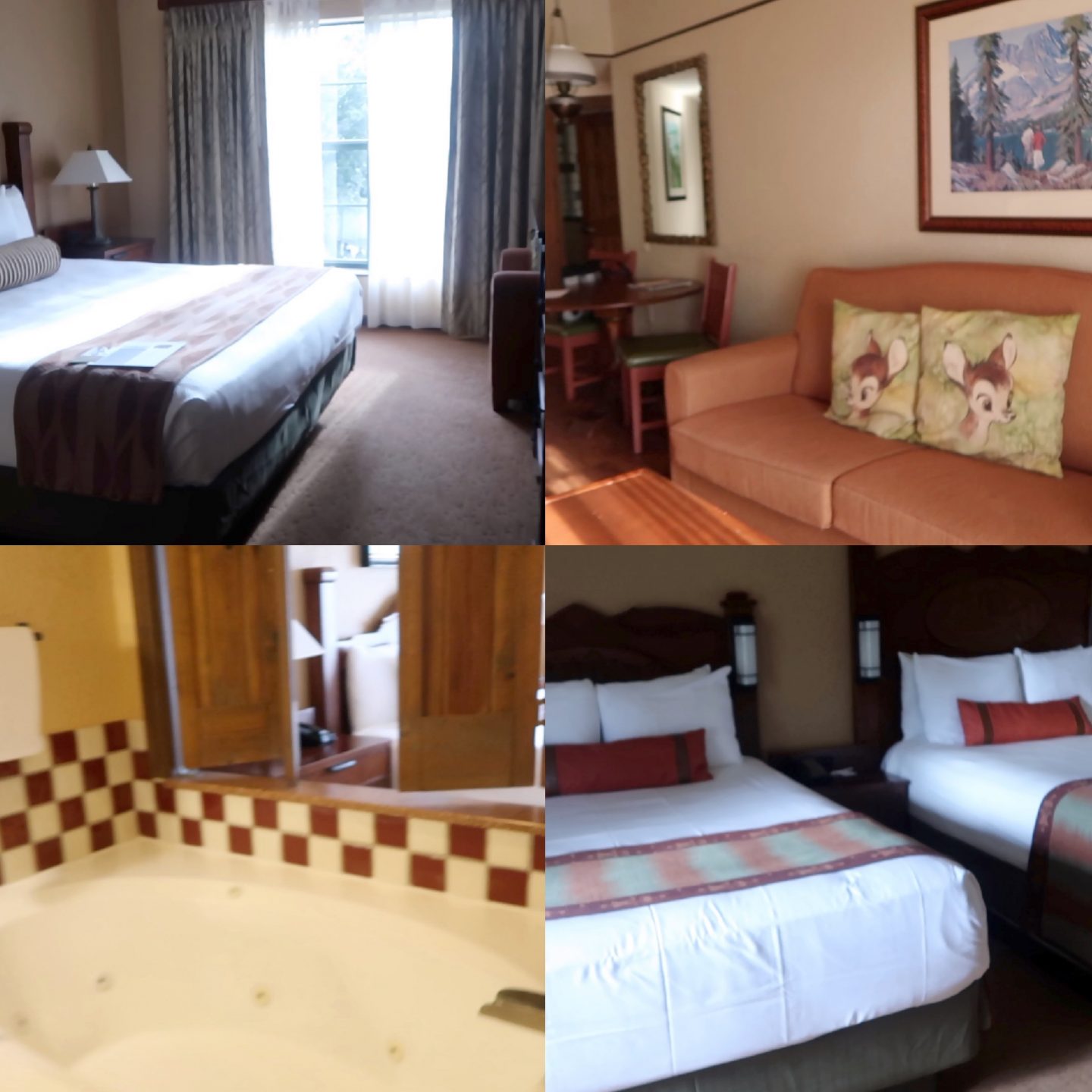 I had booked fast passes for tonight just because I could, I never expected to be able to make them all as I knew we would be tired however after getting the pushchair that we have hired from Kingdom Strollers we decide to get the boat to Magic Kingdom and at least do one.
We made it for our seven dwarfs mine train one. Im so glad we did as the little boys have never done this and Seth loved it so much Elijah was a little nervous but was still super excited.
back to the hotel and bed as we were all exhausted.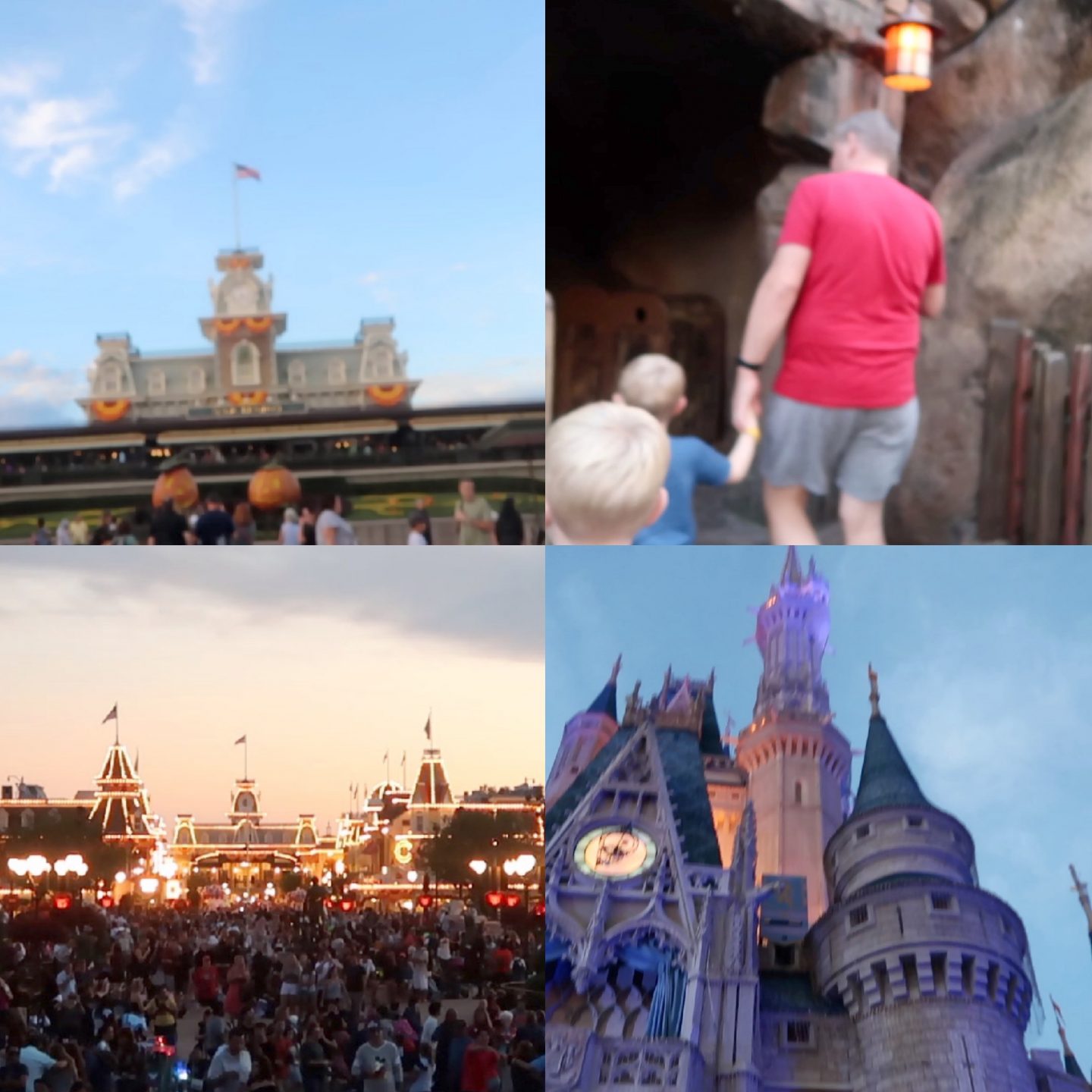 Thank you so much for reading see you next time xx