It's that time of year again. School is winding down, reports will be out soon and our little ones want to get Miss a nice present.
Now I don't think you have to get anything of monetary value to show appreciation and most things will be used then forgotten about anyway. I'm sure no teacher in 5 years time will remember who bought them the bottle of wine they drank at the end of summer term 2016.
I think a card with some meaningful words will most likely mean more to all the teachers rather than any present anyone could get.
At our school we don't have one parent that takes control and collects for the teacher. Each parent just does as they see fit and what suits their family. I think this is great even though the thought of one parent sorting it all out for everyone is tempting.
Although I don't think you need to spend money to show any gratitude, I like giving gifts. I always get a little something for each of the teachers and a tiny something for the TA's. Along side this the little ones also make a little book of all their favourite memories from the year.
They add in the trips that they have taken, plays they have been in, fun wow days that they have done, any memories that stand out for them. They write a small sentence and draw a picture to illustrate this.
Do I think the teachers like this? I have no idea at all. I have asked what they would like and they have always said "really you don't have to get anything" and I know that I really don't, but when you see some of the moms carrying in a flower arrangement bigger than I had for my wedding and Grace says so what are we getting then its hard not to get them something.
In the past we have bought small wines and chocolates and put them in a small gift bag with the little book they have made. Or at christmas we have bought Lush bath bombs and wrapped them really nicely.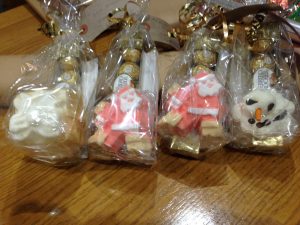 I actually thought this was a really original idea but soon found out it really wasn't. I had only been doing the school run for just over a year so I forgave myself for being so naive. Parents really can go to town with the gifts that they get, from personalised mugs to diaries and planners. Jewellery, scarfs, huge chocolate gift sets. I will have 4 children in school at one point and I really don't want to get in the habit of getting lavish gifts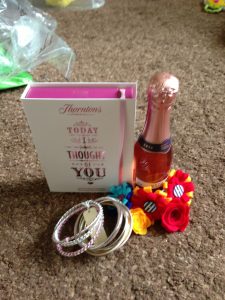 Trying to think of something they will like and not have a million of is the hardest part but I have come to the conclusion this year that the time we put into our little books and the fact that it is from the children and its their memories that the teacher has created is the best thing I can think anyone would want.
I will still get some chocolates (small) or maybe a mini gin and tonic but our little memories books will take pride of place in the bag. I might even laminate it so it will last forever and ever and the teacher will always have something to remember them by.