School holidays are always a mix between trying to keep busy and having chill time as well. These easter holidays have been very busy with days out and play dates, but we have also had a few days in. We would normally go out in the garden but as it has been so wet we have been stuck in doors.
We used to build Train Tracks or get the Lego out. My children used to enjoy doing puzzles and colouring.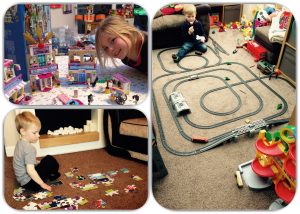 All this seems to have changed. They are now iPad Zombies. It seems to have crept up on me over a long period of time. We bought the older two iPads when we were going on holiday to Disney World, Florida in 2012 as we thought for a 9 hour flight it would be ideal (we had cheap flights with no inflight entertainment) and it was fine when they played every now and then at home.
For our second holiday to Florida we bought two new iPads and gave the older ones to the younger boys and Grace and Reuben got the new ones.
I used to make them have a few days off and only allowed them to play for an hour at a time, but things have changed and I don't like it.
The little boys now use Netflix to watch cartoons on them as they don't all want to watch the same thing and it seemed like a good idea at the time. When I was trying to do house work I would let them have them as it made my life a little easier. Over time they discovered Minecraft, and to start we thought wow, the imagination they are using to build these amazing things is wonderful. Even Elijah joins the older two's world and they all play together. Seth happily sits there and watches cartoons or plays CBeebies.
They seem so happy, but now it is literally the first thing they ask for in the morning and they no longer want to play with all the toys they had for Christmas. All they want are these small screens. When they play in the garden, they will stop out for an hour and then are begging to go back on them. When we walk round the park, Grace double checks she can go back on hers when we get home.
They have become bargaining tools for doing home work, eating their dinner and going to bed well. They are the only thing that works as a punishment (taking them away).
I have read blogs and reports on this so many times and have always thought that we are not like this because we go out we spend so much time together, and they do after school activities.
It happened so slowly I didn't realise I was allowing it to happen. When we now have play dates they come with us as Grace (with her older friends) likes to go on each other Minecraft worlds or they make videos. Reuben takes his so that he is not left out if the others have theirs.
These holidays we went to Legoland and Chessington World of Adventures. The children didn't really want to go to Chessington World of Adventures, they wanted to stop at home to play on their iPads.
Now it seems that it doesn't matter how many offers of Playdoh, Paints or Puzzles I make, the only things they really want are those little screens that have turned them into Zombies and it makes me so sad.
I am now going to have to be the horrible Mom and start telling them no and putting them away. I will have to make them do the things that they think they don't want to do (like colouring, building a train track, bake a cake or play with their Lego). I need to make them see that Minecraft isn't the be all and end all. I need to act now before they completely go over to the dark side and the only thing they want is iTunes vouchers. I need them to still be excited by the Toys R Us catalogue, and still want to build the Lego models that they used to long for.
These holidays have made me realise that I have let it go on for far too long now. I have allowed them to become addicted to these games, and only I can change it.
I don't want Zombie children anymore!